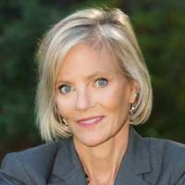 Sheila Bonini has joined WWF as our new senior vice president of Private Sector Engagement (PSE).
Most recently, Sheila served as the chief executive officer of The Sustainability Consortium, a global organization focused on making consumer products more sustainable. In that capacity, she helped develop more sustainable consumer products across the full product lifecycle.
Prior to joining TSC, Sheila spent more than 15 years with the global consulting firm McKinsey & Company in Europe, South America, and the US. Sheila served as senior expert consultant and co-leader of McKinsey's Sustainability Transformation Service, and her work at the company focused on the link between social and environmental impact and financial value creation. Prior experience includes investment banking at Merrill Lynch and Goldman Sachs, as well as positions with the Hewlett Foundation and Stanford's Center for Social Innovation.
Sheila has a bachelor's degree in applied mathematics from Harvard University and an MBA from Stanford University. She's a frequent speaker and writer on sustainability, and has a strong network of corporate leaders in this field.
Contact
Leadership
Staff