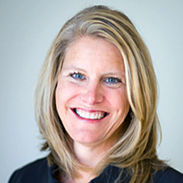 Elizabeth Sturcken directs the work of our Supply Chain Corporate Partnerships team, which develops and implements joint projects with leading companies to create environmental change.
Leading our team of people working with Walmart to create broad environmental change in areas including climate change, agriculture, toxics in products and renewable energy.
Led our FedEx project to develop environmentally advanced medium-duty delivery vehicles.
Led our project with UPS to create innovative change in their express delivery packaging, resulting in environmental, business and customer benefits.
Background
Environmental Consultant for the EPA, through Harvard University, on global climate change (1996); Systems Consultant, Bank of Boston (1993-1994); Policy Analyst, Office of Management and Budget (1995); Computer Consultant, Alliance Computer Group (1989-1992).
Surfrider Foundation Board of Directors (1998-2001), President (2000); Founder and former Chair, Surfrider Foundation Massachusetts' chapter; Board of Directors, Environmental League of Massachusetts (1999-2002); Board of Directors, The Sustainability Consortium (2014).
Degrees
Masters in Public Policy, Environment and Natural Resources Policy, Harvard Kennedy School (1996). Bachelors in Political Science and Communication, summa cum laude, Phi Beta Kappa, University of Minnesota.
Contact
Leadership
Staff