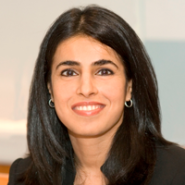 Priyamvada Singh has been with HSBC Bank USA since May 2014. In her role as Product and Propositions Head, she is responsible for building GTRF's product capabilities to support trade finance and services including sector specific propositions. As the largest trade bank in the world, HSBC's GTRF business has been leading in embracing technological developments with digitalization of trade, intelligent automation and key 'fintech' and collaborative partnerships. Priyamvada's role in leading product includes identifying strategic partnerships including for sustainability and supply chain visibility. In North America, GTRF has successfully established partnerships with external supply chain platforms to deliver end-to-end structured solutions and launched digital tools for trade, including development of a market leading sustainable supply chain finance solution. GTRF and HSBC Corporate Sustainability in the US have led the way for collaboration with The Sustainability Consortium, Sustainable Apparel Coalition and more to follow.
Priyamvada has 20+ years of experience as a corporate banker and trade finance professional with global banks (Deutsche and ING) as well as leading trade and supply chain finance in emerging markets with the World Bank Group. Prior to joining HSBC in 2014, Priyamvada was Global Program Head for Supplier Finance at International Finance Corporation (IFC), the private sector arm of the World Bank. As Principal, Trade Finance, she was involved in developing the multi-donor funded Global Trade Liquidity program in 2009 as a crisis response to supporting trade finance delivered through global banks. At IFC, Priyamvada established the Global Trade Supplier Finance program in 2010 under which IFC provides supply chain financing in partnership with global banks and alternative technology platform providers, including for the first time, using sustainability metrics for improved supplier compliance with sustainability standards.
Priyamvada represents HSBC at the ICC Sustainability Working Group on Sustainable Trade Finance with other member banks working on collaboration to integrate tools and develop frameworks to integrate among the banks such as the IFC GMAP tool for commodities, adoption of customer sustainability questionnaire, accountability frameworks for sustainable agricultural supply chains etc and regulatory frameworks update. Priyamvada has also been a regular speaker representing HSBC at trade finance and industry events on emerging markets trade and supply chain finance.
Contact