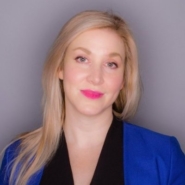 In 2015, Kelly W. Fisher was appointed Senior Vice President and Head of Corporate Sustainability for HSBC Bank USA.  In her role she has helped to launch HSBC's new U.S. volunteer program "Involve" which has been recognized for improving the volunteer experience.  She also co-chairs the US Climate Business Council, which is helping to increase HSBC's leadership role in sustainable finance.
Kelly joined HSBC after seven years at Toyota Motor North America, where she created environmental and safety programs that were recognized for having a meaningful impact while greatly improving corporate reputation.  In her tenure there she also created Toyota's first-ever social media giving campaign, called "100 Cars for Good".   Prior to that, she worked for four years at Goldman Sachs, helping to manage their global volunteer program and internal marketing campaigns.
In the past, Kelly has held seats on the corporate advisory board of Do Something and the executive board of Corporate Volunteers of New York.  She is an active volunteer with Citymeals-on-Wheels, various animal welfare organizations, and was a recipient of the President's Volunteer Service Award in 2011.
Contact