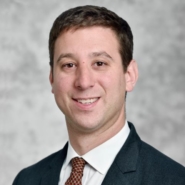 Eli Levine leads the Clean Energy Manufacturing Initiative (CEMI) to develop and leverage strategic partnerships to advance U.S. manufacturing. In this role, he is spearheading the Office of Energy Efficiency and Renewable Energy's (EERE) effort to increase U.S. competitiveness in manufacturing clean energy technologies by boosting energy productivity and leveraging low-cost domestic energy resources and feedstocks.
Since being promoted from serving as the CEMI Deputy Director, Eli has assumed new leadership responsibilities to implement the CEMI strategy, including the Technologist-In-Residence program and the Clean Energy Manufacturing Assessment Center. He is also developing high-profile engagements with strategic partners, including the Department of Commerce and the White House, to support the launch of the new Energy Materials Network.
Prior to joining EERE and CEMI, he worked on energy issues at the White House, at the Council on Environmental Quality and the Office of Management and Budget. Eli joined the Energy Department to help stand up the Advanced Research Projects Agency-Energy in 2010. At ARPA-E, he worked on legal, budgetary, and Congressional affairs matters. He is a graduate of Washington University School of Law and Cornell University.
Contact