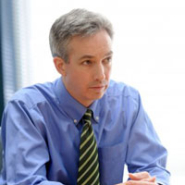 Tony leads a group of experienced industry professionals responsible for the procurement of food ingredients and commodities such as sugar, dairy ingredients, cocoa, oils, starches, flour and food grade chemicals.
With nearly 30 years of purchasing experience, including 18 with International Food Products, Tony brings deep insights to customers who rely on his group to manage cost, quality and market risk.
Tony started his career with the Archer Daniels Midland Company as a grain merchandiser trading a variety of agricultural commodities. Tony also traded crush and managed risk with ADM's soy processing division before moving on to a sales and marketing position.
Tony earned his Bachelor of Science degree in Business Administration from Villanova University and his Masters in Business Administration from the Olin School of Business at Washington University in St. Louis.
Tony is a member of Beta Gamma Sigma and is active in a variety of industry trade organizations such as the St. Louis Agri-Business Club and the American Feed Industry Association.
Contact