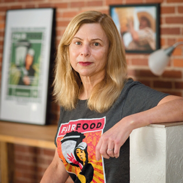 Judge Laura Safer Espinoza is the Executive Director of the Fair Food Standards Council, which monitors and enforces the Coalition of Immokalee Workers' groundbreaking agreements with growers and food retail buyers to ensure fundamental human rights for agricultural workers. The Fair Food Program has been recognized by the White House, the United Nations, Harvard Business Review, CNN International's Freedom Project and numerous international human rights organizations, as one of the most successful programs in the world today to uncover, eliminate and prevent modern-day slavery, sexual violence, wage theft and other systemic abuses.
 Judge Safer Espinoza is a former NY State Supreme Court Justice who served as a judge and court administrator for twenty years. She helped to design and became the first presiding judge of an innovative alternative to incarceration court for non-violent offenders. Judge Safer Espinoza has an extensive history of work with government, human rights and legal organizations in the United States and Latin America. She has taught extensively in Latin America, in support of law reform and greater transparency.
Justice Safer Espinoza is a graduate of Barnard College and New York Law School. She is a recipient of the City University of New York's Women in the Law Award and Encore's 'Purpose Prize' Award, celebrating individuals who use their previous life experience to make a difference.
Contact