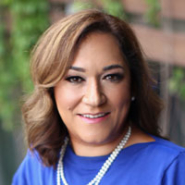 Emi Cardarelli – Unilever - Director of Club Sales and Sustainability.
Emi is responsible for leading the wholesale club customer sales teams for Unilever US. She plays a key role in the strategy development for the club channel, as well as value creating initiatives for both Unilever/Walmart sustainability programs.
Prior to Unilever Emi spent 13 years at Walmart Stores Inc in several merchandising, sourcing, and private brands roles where she grew the business, and built a diverse, cross-functional background including an international assignment in Costa Rica.
Emi was raised in Mexico City in a bilingual/multicultural environment and has spent the past 16yrs in Northwest Arkansas. She received her B.S. in International Business at the Universidad Panamericana in Mexico City and completed her MBA at the University of Arkansas' Walton College of Business. Emi currently serves as past chair on the Sam Walton College Deans' Alumni Advisory Council and is a board member of Pay It Forward Foundation. Emi lives in Rogers, AR with her husband Tony and boys AJ (11yrs) and Alex (2yrs).
Contact