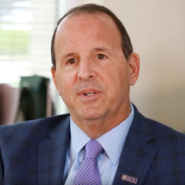 Dr. Jay Golden is Vice Chancellor for Research, Economic Development and Engagement at ECU and a professor of Engineering with a secondary appointment in supply chain.
Dr. Golden comes to ECU from Duke University where he was faculty chair of the Business & Environment Program and Director of the Duke Center for Sustainability and Commerce.  Golden also served as Associate Vice Provost for Research and led Dukes Corporate Relations Office.
Dr. Golden received his Ph.D. in engineering from the University of Cambridge, and his master's degree in environmental engineering and sustainable development from a joint program of the Massachusetts Institute of Technology and the University of Cambridge. He also holds a Organizational Mastery of Project Management from Stanford University and an MLE from Harvard University and a bachelors in management.
Author of more than 150 articles, Golden has participated in 100 invited presentations and more than 70 media interviews. He has testified before Congress and secured more than $30 million in research funding. Golden directed the National Center of Excellence on Sustainable Materials and Renewable Technologies while serving as a faculty member at Arizona State University.
Golden was presented the Faculty Pioneer Award by the Aspen Institute for his leadership in the field of sustainable engineering education and research. He was also named one of the 100 most influential people in business ethics by the Ethisphere Institute.  In 2017, Golden was nominated by peers and appointed to the Board of Scientific Counselors for the U.S. Environmental Protection Agency.
Golden brings both an entrepreneurial and business background to ECU, having founded a small business in Arizona that grew to have operations throughout the West and Southwest. He has also held leadership positions in multiple publicly traded companies, including a Fortune 150 international service and technology company. Golden serves on a number of boards, including the North Carolina Biotechnology Center Board of Directors and the Coastal Studies Institute.
Dr. Golden can be reached at GoldenJ17@ecu.edu
Contact