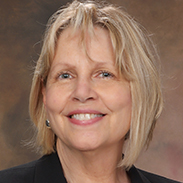 Lori Berger joined the University of California Statewide Integrated Pest Management Project in 2014. Prior to this, she was the Executive Director of the grower-supported California Specialty Crops Council, leading technical and regulatory affairs for a diverse array of fruit, vegetable, berry and vine crops valued at >$5 Billion produced on over 600,000 acres. Lori has been at the intersection of IPM, food systems, public policy, and sustainability over two decades.
Her work has focused on the production community as well as appointments to several EPA and USDA advisory federal committees (pollinator protection, water quality and soil health). She holds a BS in Crop Science, M.S. and Ph.D. degrees in Entomology, and an MBA. She is a licensed pest control advisor (PCA) and certified crop advisor (CCA) in sustainability. She is a graduate of the California Agricultural Leadership Program.
Lori has worked for two Fortune 500 companies in R&D and Technical Services for new product and market development. She consults on a variety of research, marketing and regulatory projects.
Contact