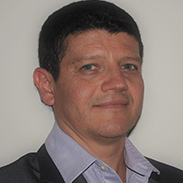 Nolan Quiros is a lawyer who studied Agricultural Economics. He completed his PhD at Oklahoma State University, USA, focusing on Natural Resources Management, and also completed a master's degree in Comparative Law at American University, Washington D.C, USA.
Nolan is based in a small rural town called Atenas, which is located around 30 km from San Jose, the capital of Costa Rica. He is Costa Rican and was born into a big family with an affinity for studying and learning. Both his parents were high school teachers.
He has worked as a researcher for the USDA and as a market analyst for a US fertilizer company. Furthermore, he has also served as a field scientist for Boston University, a university professor in the USA and Costa Rica, and as an international consultant on carbon and water foot print calculations. During the last five years, Nolan worked for a banana producing company, where he managed third-party certifications, social and labor issues, and retailer relations with 72 farms in seven different countries in Latin America.
He enjoys teaching, academic pursuits, and exploring the outdoors .
Nolan is married to Jahel and has two teenage children, Samantha and Matthew.
Contact