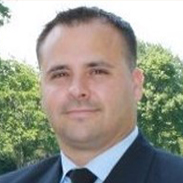 Upon receipt of his Masters degree, Capt Sabourin applied for and received a secondary job tile as an 8831, Environmental Engineer. Upon receipt of orders in March of 2012, he proceeded to the Marine Corps Combat Development Command (MCCDC), Marine Corps Base, Quantico, Natural Resources and Environmental Affairs (NREA). Within NREA, Major Sabourin acted as the department's Deputy Director and Lead Environmental Auditor before retiring in July of 2014. During this time, he provided leadership in safety, natural resource and wildlife management, sustainability programing, and environmental regulatory compliance for the base and all entrained subcommands in a manner consistent with federal regulation, state regulation, Marine Corps and Department of Defense policy, and the base commander's environmental objectives and targets.
Since retiring, Mr. Sabourin has continued to work in environmental field, accepting progressively advancing positons within ASR Group. In early 2014, he took the title of Environmental & Sustainability Manager, American Sugar Refineries Inc., Domino Sugar Baltimore. Then, in Feb 2016, he advanced to
the position of Global Director of Sustainability, ASR Group International Inc.
Contact